Being left behind in an increasingly digital world is a scary thought. Gartner predicts that this year alone, organisations with digital trustworthiness will have a substantial advantage (of up to 20% increased revenue in online channels) compared to their competitors. In our previous article, Digital Twins – Why all the fuss, we introduced the concept of digital twins and their benefits. This article describes five potential use cases of digital twin technologies, focused on providing real value to organisations and consumers. Digital integrations, specifically with digital twin solutions, are predicted to be one of this decade's biggest disruptors – let's explore some practical use cases.
Improve utility service delivery by understanding, predicting and executing usage strategies in real time with a digital twin
Electricity is the most fundamental of utilities. Even though it's such a new concept in the context of human history (I know – this sounds strange – but the earliest evidence of human's harnessing electricity in the early common era, only about 5% of our existence as a species)! Despite its relative brevity, we have a fundamental reliance on power! Utility management is very important, particularly in South Australia, where we have a reliance on other states for our energy. So, how can service providers achieve better outcomes using a digital twin? Using our new-found definition, let's explore this in the context of a digital model of a space – an electrical substation.
What type of data is available?
Without providing contextual value, all a digital twin is, is a digital model, so we need to understand the type of data available to our use case to understand potential value. A substation contains sensors which measure electrical throughput. Subject Matter Experts (SME's) also understand the thresholds associated with throughput, pertaining to specific assets within the substation. All this information, along with historical supply and usage information, should be modelled and organised in a manner to provide contextual insight. Further to this, AI predictive models, trained on available historical data, can be integrated to provide recommended actions, warnings and decision support.
What's the benefit?
Imagine you're a service technician, responsible for maintaining service delivery to a region within South Australia. Using your industry-customised digital twin such as the exposé Digital Twin, you can explore the substation digitally, in a fraction of the time, compared to actual exploration. (Imagine not needing to travel to the site when remote working)! Your digital twin ensures you're provided with context sensitive information immediately and in real-time.
As you are traversing the digital space, you notice that the electrical throughput on one of the transformers is slightly elevated (via visual and auditory cues). Upon clicking on the resource, a map of available resistors denotes that a resistor has malfunctioned and is offline; the digital twin recommends that a service ticket is generated to resolve the issue. You accept the recommendation, and the ticket is created. Later that afternoon, the resistor is replaced, and no service loss is experienced. To extend this, composite digital twins allow you to understand and visualise the entire, or local network, rather than only providing contextual information for one distribution centre or substation.
Pathfinding in 2020: understand University library movements with digital twin technologies
Have you ever found yourself wandering the aisles of a library, supermarket, or department store aimlessly looking in "the obvious places" for something, only to find it twenty minutes later, in a location you never thought to look? If you answered no, you're either a liar, or a genius! Improving customer experience is core to any business, so it is no surprise that organisations and educational facilities are exploring digital twin technologies to increase customer engagement. Traditionally, it is next to impossible to understand customer movement patterns with a high degree of certainty or fidelity, but with advances in artificial intelligence, underpinned with digital twin visualisation techniques, the paradigm is shifting, and shifting quickly.
Gamifying User Experience
How a customer moves from Point A to Point B is important. Let's say, a customer, Janice, is researching the history of computer science, and needs to navigate to the reference section of the library from the front desk. The time spent looking for the section she needs is directly proportional to her user experience. As such, you want to make her trip as easy and prompt as possible. The better her experience, the better your score. Realistically, Janice's goal is arbitrary, and does not represent the goal of all customers, but each consumer indeed has a goal.
A digital twin representation of your Library can help you visualise consumer movements in real time but should not stop there. Fundamentally, the library should be designed in a way that it improves overall experience, and to achieve this, the digital twin provides context sensitive information on paths traversed by all consumers, as well as time spent in each section.
Setting the Score
By allowing Subject Matter Experts (SMEs) to define rules based on how customers are supposed to interact with areas, or assets within the Library, a digital twin can measure the effectiveness of specific areas and assets. Resource footprints should then be rearranged, to improve user experience, based on the actionable insights recognised from the digital twin.
Bridging the Age Gap – Digital twin, an Aged Care Story
Retirement and Aged Care facilities are information rich ecosystems. Physical and digital record keeping does not stop at pen, paper, or database; no doubt, these facilities do indeed have Big Data. Internet of Things (IoT) devices measure and record many things: Temperature maintenance (both medical refrigeration and facility temperature), site and resident security (ins and outs) and medical administration, amongst many others. The success of the facility depends heavily on proper record management and stringent policy adherence.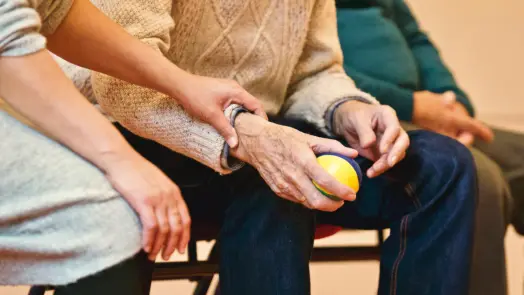 Human-proofing care
Humans are in no way perfect, and we make mistakes. That is what makes us human, we accept it, and in some ways, we celebrate it; however, our mistakes can be problematic. In a care setting, errors can literally be fatal. Taking a digital twin approach to Aged Care, ensures that context sensitive information is delivered at the right time, to the right people. Proper information delivery could mean the difference between an incident and one mitigated.
Imagine, as an orderly completes their rounds, they navigate the facility on their tablet as they walk the halls. The digital twin of the facility displays information pertaining to refrigerator and room temperatures, alleviating the requirement for manual investigation. Interventions are also possible from within the application, improving service delivery and ensuring a safe environment for all, in a fraction of the regular time.
Front-foot tactics for Local Government Infrastructure with digital twin
Local Governments are the conduit of communities. They provide services and infrastructure which improve our lives and societies as Australians. In order to continue to develop in an efficient and cost-effective manner, digital twin implementations can provide tremendous value in assisting councils to understand their infrastructure, and the citizens they serve. But why should councils use digital twins over traditional means?
Why digital twins?
Local Government budgets are not only tightly constrained, they also have a wide scope. The ability to generate actionable insights on infrastructure and citizens is invaluable. Imagine having the ability to visualise, in real time, the communities use of new infrastructure, or a map view identifying houses whose rate payments are due, or being able to explore arterial and local rounds, with context sensitive information around maintenance schedules? This sounds great, but the real benefit comes from being able to do all of this, and more, in a matter of minutes.
One Stop Shop – Actionable Insights via the exposé Digital Twin
Councils, utilities, care providers, retailers, manufacturers, property management companies, construction companies, engineering firms, universities, etc. are adopting and embracing digital twins right now! Click here to find out how organisations are exploring digital twin technology to manage infrastructure, digitally, and how Exposé can assist your business in bridging the digital gap.