Just about any implementation of a reporting environment within an organisation will have different styles of reports for different purposes. These reports may be operational\paginated, self-service using Excel, and\or highly interactive and user-friendly Power BI reports. The central question then beckons, how do all our users access these reports within one location which is easily accessible?
Typically businesses that are heavy users of Microsoft products would use SharePoint to provide a portal to the various documents and reports that need to be shared within the organisation; including Self Service and Operational style reports. SharePoint has been an ideal intranet tool for over 15 years and continues to provide an excellent service for content management. However, Power BI is taking a substantial share of the BI Reporting market, even more so with organisations already heavily invested in Microsoft products. Therefore having a portal that interacts with this reporting tool is becoming more and more necessary.
For organisations that want to have a one-stop shop for their entire suite of reports, including Power BI, as well as those who'd like to provide a portal for accessing reports without the overhead of a SharePoint installation, then you'll be happy to learn that as of July 2017 there's something for you!
We are happy to announce that SQL Server Reporting Services Portal, which was released with SQL Server 2016, has a more enhanced version which is named Power BI Report Server. The Power BI Report Server provides a portal for several types of Microsoft reports, including Excel, but most importantly, is its interactivity with Power BI reports. Previously, Power BI had no mechanism to be interacted with on premises, along with other types of Reports.
In this article, I will:
Discuss what this means for businesses.
Explain why you would use Power BI Report Server.
Provide some examples of what the portal looks like.
Highlight this as a great stepping stone from on Premises Power BI desktop Reporting into off premises Power BI as a Service Reporting
What does this mean for businesses (business benefits)
For organisations who already have SQL Server Enterprise with Software Assurance:
The Power BI Report Server is available to you as part of your Software Assurance licensing agreement with SQL Server Enterprise Edition. Your business is primed to make use of the benefits that Power BI Report Server provides with a relatively simple installation process.
Instead of using a network file share or other methods to provide access to report files, upload the reporting files to the Power BI Reporting Server Portal. Folders and security can be applied within the portal to restrict what AD members can see and do. Documentation files and other files types can also be uploaded much like a content management system.
For organisations already using SharePoint for their Reporting Portal:
It is no longer necessary to use SharePoint as a portal to provide access to the suite of reports your business uses. Transitioning from SharePoint to Power BI Report Server can save a considerable amount from licensing, but also time spent maintaining and having skills on hand to manage your SharePoint server. Instead of continuing to be dependent on a complex and costly on-premises content management system, the Power BI Report Server is almost like for like for accessing Reports. It has one other significant benefit; interaction with Power BI.
For organisations wanting to use Power BI on premises:
Power BI Report Server is the on-premises portal of Power BI. Power BI is also the replacement of Power View which has existed since SQL Server 2012, and it is a significantly more feature rich tool in comparison. Therefore, if wanting to deploy Power BI Desktop Reports on-premise within your organisation, alongside other reports such as Reporting Services and Excel, and primarily make these reports accessible to a range of users using a portal, then Power BI Report Server is your best option.
See this short video on how the single Power BI Report Server hosts Excel, Power BI and Reporting Services reports and how the Portal is used to access all three.
Why Power BI Report Server
Power BI Report Server is the content management system for Power BI Desktop Reports and other Microsoft compatible reports, although it can store other file types too. It is an on-premises solution which provides a portal and integration of several reporting services in one location. This includes Power BI Desktop, SSRS and Excel among other types. The Power BI Reporting Server is more or less the SQL Server Reporting Services Portal, except it provides for the first time, a portal, for the entire suite of reports that Microsoft offers. Power BI Report Server is SQL Server Reporting Services Portal on steroids!
Power BI Report Server is compatible with SSRS, Excel and Power BI Desktop files.
Other report styles are also offered within this portal such as:

Mobile Reports which are mobile device friendly
Report Builder for ad-hoc report generation
KPI's (Key Performance Indicators) are simplistic reports which can give an indication of a simple trend.

Data Connections can be created and subsequently used throughout the reports uploaded to the portal. Direct Connections include:

Microsoft SQL Server
Microsoft Azure SQL Database
Microsoft SQL Server Analysis Services
Microsoft SharePoint Lists
Oracle Essbase
SAP BW
OLE DB
ODBC
XML

Documents can be uploaded to the portal for use as training guides.
Branding, including colour schemes, can be applied
Active Directory User Groups\members can be used to set access controls to allow what users can see, and\or connect to.
PowerBI essentially replaces the need for PowerView except PowerBI is a much more powerful tool
Power BI Desktop (on-prem) doesn't have all the functionality of the Power BI as a Service (Cloud) has, such as Natural Language Queries, Dashboards and PBI Apps.
The Power BI Desktop files will render within the Reporting portal but can be downloaded as a file and opened in Power BI Desktop allowing the user to make changes to the report, which can then be uploaded as a new report.
An Excel Worksheet\Template can be uploaded with a particular look and feel ready for Users to interact with, without starting from scratch. The Excel file can be rendered within the browser if Office Online Server (OOS) has been installed on the server, otherwise, will need to be downloaded to the user's PC before it can be manipulated.
An example of what the Portal looks like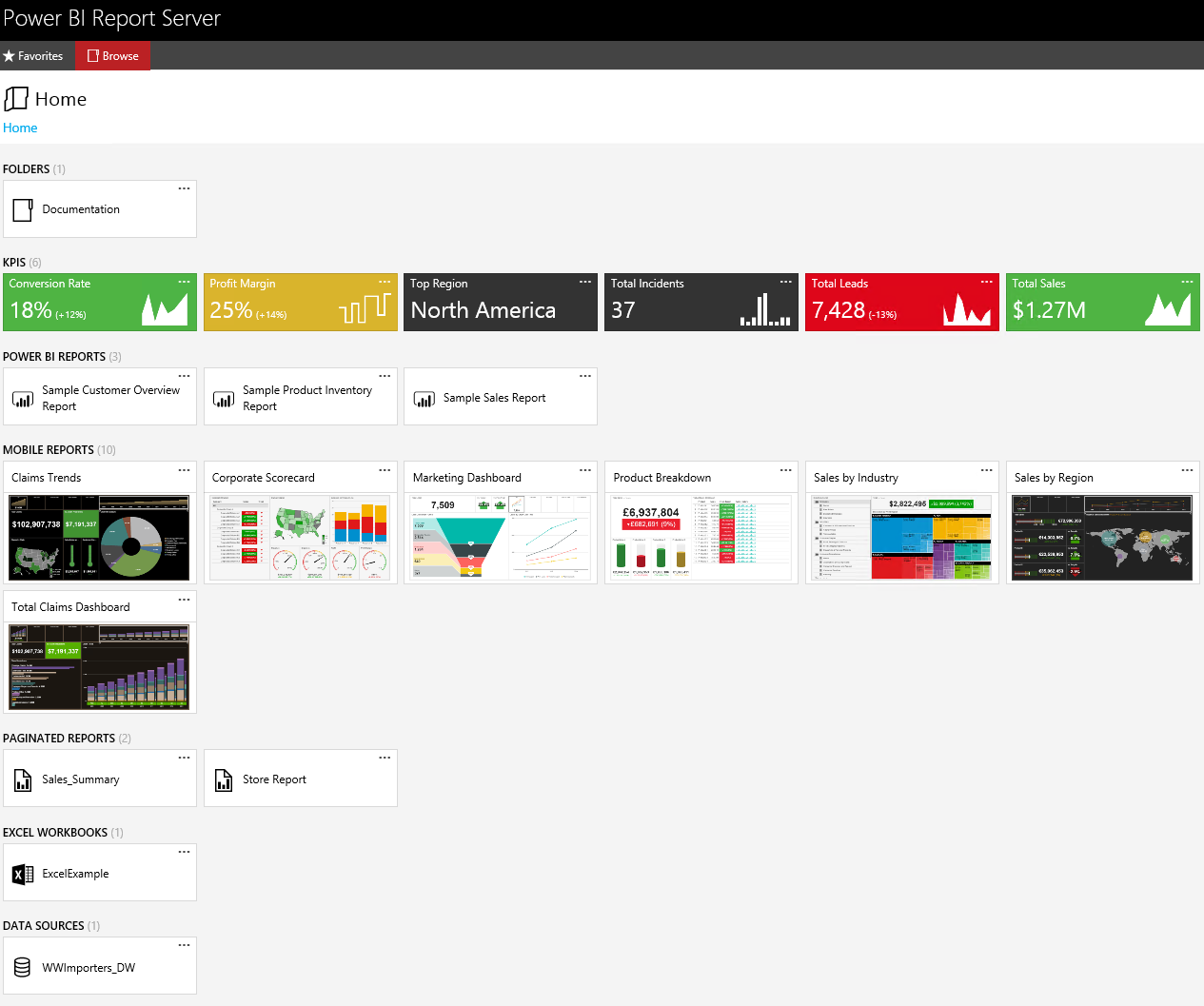 Power BI Report Server is a great stepping stone towards Power BI as a Service
An alternative to using Power BI Desktop is Power BI as a Service, which is the cloud offering of Power BI. Power BI in the cloud has its own style of the content management system, but this is off premises. Using Power BI Desktop on premises with Power BI Desktop Server as the portal to share these reports, is a great stepping stone towards a transition to using Power BI in the cloud, as the power BI Desktop reports are fully compatible with Power BI in the cloud, therefore can be uploaded when ready in the future.
Conclusion
Power BI Report Server is the recommended portal to access reports generated by the entire suite of Microsoft Reporting tools. PowerBI is an industry leader in BI functionality and is highly recommended to be leveraged. The Power BI Report Server therefore seamlessly integrates SSRS, Excel and Power BI desktop together along with other reporting styles like Mobile and KPI's. It responds similarly to SharePoint for content management, but with much less overhead for installation and administration. Security within Windows AD Groups will also be able to be applied like for like compared with SharePoint which makes for a quite a simple transition from SharePoint to Power BI Report Server. Using Power BI Report server and getting used to developing BI Reports within Power BI is also future-proofing your organisation, as Power BI as a service will readily accept any Power BI reports developed for this platform and be usable within the cloud.
* Update – 5th of November 2017
As mentioned in this video walkthrough, Power BI Report Server has its own release cycle, ensuring updates and enhancements are more frequently provided than would be if associated with SQL Server releases. The latest release of Power BI Report Server was in late October 2017 with these features:
Support for imported data in Power BI reports
Ability to view excel workbooks within the web portal. This is done by configuring Office Online Server.
Support for the new Power BI table and matrix visuals.
REST API support
More detail about the release notes is provided on the Power BI Website.